About Walker Plumbing Services
Walker Plumbing Services is a family owned full service plumbing company located in Melbourne, Florida. Our professional plumbing service has been providing professional quality plumbing service to Brevard County residents for over 20 years.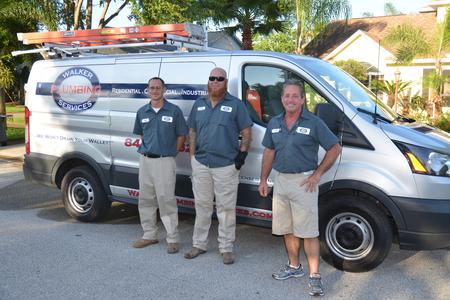 We have a large and loyal customer base for all types of plumbing services. Brevard County's leading plumber offers a variety of plumbing services and repairs, including emergency plumbing repairs of:
A Family Owned and Operated Plumbing Business
4355 Dow Road
Melbourne, FL 32934
Monday – Friday 7am – 3pm
Sink
Toilets
Faucets
Disposals
Pipe Work
Sewer Lines
Drain Cleaning
Water Heaters
And Much, Much More!
Our plumbing professionals are experts at repairing or replacing all types of toilets, faucets, water heaters, drain lines, garbage disposals, fresh water pipes, and gas lines. Walker Plumbing is one of the few companies that is medical gas certified. That means Walker Plumbing is qualified and certified to install and repair medical gas in institutions which require process pipe installation and repair.
Have you received a letter from the water company requiring a back flow certification for the device at your water meter? Walker Plumbing is certified to provide this service also. We provide sewer jetting services for the hospitality industry and more. Walker uses a flat rate pricing system for most services we perform. We make it standard operating procedure to offer fair and honest pricing. Our technicians treat each customer as an individual accessing each circumstance, troubleshooting, and solving the problem in the most efficient and cost effective manner professionally available. We value you as a customer.
We do not make patchwork repairs that will eventually flood your home and cost you more money in the long run. Don't let your plumbing problem go from bad to worse by trusting a cut-rate plumber. Choose the qualified and highly-recommended plumbers at Walker Plumbing.
Call Walker Plumbing Services at 321-652-0149 today so we can fix your plumbing problem professionally and permanently. We proudly serve the following Brevard County areas:
Melbourne
Viera
Rockledge
Suntree
Satellite Beach
Cocoa
Cocoa Beach
Titusville
West Melbourne
Palm Bay
Malabar
Melbourne Beach
Merritt Island
Serving Brevard County plumbing needs for over 20 years, Walker Plumbing is proud to be a family owned and operated small business. Our entire team guarantees you'll be satisfied with our plumbing services. Plus, we make sure our plumbing services are done right the first time, which will save you money in the long run. We realize things happen, and that's why Walker Plumbing makes warranty calls a priority. Our plumbing company promises:
Flat rates
Licensed technicians
Fully-stocked service vans
Proven solutions using the latest technology
Free estimates on select services
Call the professionals at Walker Plumbing at 321-652-0149 for more information about our Melbourne, Florida based drain cleaning and plumbing services.